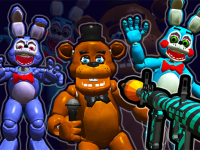 FNaF Shooter is an interesting FNAF game in which you need to fight against various animatronics in the supermarket at late night!
Instructions
What will happen when you stay late at the store? Maybe ghosts or evil or animatronics come to life every night? They shut down all the power and begin to find the remaining visitors. All of them are very persistent. Even if you break their arm or leg, they will still come back to haunt you. The most effective way to destroy them is to break them apart and try to stay alive and stop the invasion of animatronics!
Do not forget to check out the FNAF series with Five Nights at Freddy's and Five Nights at Trump's! Have fun!


How to play
Mouse – look around
WASD – movement
W + Shift – Run
Left Mouse Button – Shoot
Right Mouse Button (Hold) – Aim
Mouse wheel – next/leading
weapon 1-7 – weapon hotkeys
R – reload
F – knife attack
G – throw a grenade
T – inspect the weapon