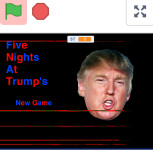 Five Nights at Trump's is an exciting parody game that is inspired by Five Nights at Freddy's and you need to avoid Donald Trump.
Instructions for
Five Nights at Trump's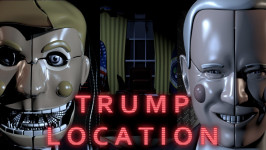 In this Five Nights At Trump's Play Online game, you have to try to stay away from the scary Donald Trump while staying at his house. There are various interesting things to see and discover here. But don't lose sight of the fact that your goal is to leave before Trump does.
You have to keep an eye on a lot of security cameras, which you should use to follow the president. If you aren't paying attention, he may catch you by surprise! The graphics are fun, and the game is also easy to play. Today, have fun staying away from Donald!
In the FNAF series, you can find more great games.
You can't miss the TOP 6 Hot Games like Five Nights at Freddy's 2, Five Nights at Freddy's 3, Five Nights at Freddy's 4, Friday at Treasure Island, Funkin' Nights at Freddy's, and FNAF Shooter if you like horror or role-playing games.