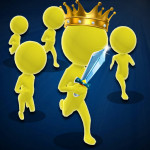 The objective of Crowd Pusher, an engaging and casual video game, is to amass a sufficient number of players and triumph over the game's antagonist.
Instructions for Crowd Pusher
The objective of the game Crowd Pusher is to work together with your friends to beat the boss by gathering characters and numbers that are the same color on the platform. You can win the game more rapidly if you increase the size of your audience and dodge any and all barriers that may appear. The game's gameplay, which is both realistic and competitive, will appeal to players of all ages and genders. This game features numerous levels of play, each one becoming more challenging than the last. You won't have time to get bored.
Main Features
You have the option of taking control of the audience and leading stickman combatants to victory.
Stickman Battles: Assemble your team, and prepare to face off against the competition in this definitive stickman brawl.
The challenge of the game will increase as you progress through the levels.
Get rid of the challenges in order to become the champion of coin rush.
Stickman duels can be won by increasing the number of runners on your team through multiplication, addition, or all three.
Related Games