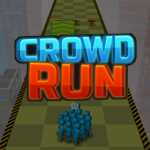 You must be careful not to lose any of your characters in the entertaining action game Crowd Run 3D.
Crowd Run 3D Guidelines
A 3D puzzle game with tonnes of action is available in Crowd Run 3D! To begin, simply tap the play button while holding down the designated character. You can use as many characters as you choose to lead your horde through a challenging obstacle course. You will receive money for each character you complete successfully like in Mob Control.
Crowd Run 3D was developed by Famobi GmbH. Watch out for hazards and traps that could damage or eliminate group members. But don't worry, you can increase your number by using the cloning gate. Quick reactions are a must if you want to make it through the increasingly challenging levels.