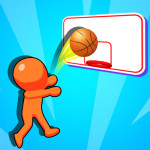 Basket Battle is a multiplayer online basketball game that you and your friends may play together.
Instructions for Basket Battle
Your basketball abilities will be put to the test in Basket Battle! You have a chance of winning the game if you keep an eye on where the basket will be and show that you have a good comprehension of the physical rules. Do not give your opponent the opportunity to score before you do. You can also participate in a variety of tournaments. You will need to clear the way before you can go through the various stages. In addition to the standard tournaments, there are also the challenging semi-finals.
Main Features
a very different approach to the game of basketball
Shoot baskets into a unique ball that is suspended above the court.
You will amass points for every basket that you make.
Competing in a shooting contest is a fantastic way to gauge your level of proficiency.
Participate in Gem Rush and accumulate resources.
The PC version of Basket Battle is now available for playing. If you are interested in playing action games, you should check out Basket Random and Basketball Stars.