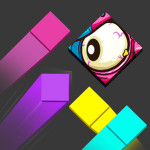 To stay alive in the terrifying video game Color Horror, you have to line up the snake with the appropriate colored blocks. This is the only way to go through the game.
Instructions
Backrooms Game offers a free version of Color Horror for players to enjoy. The only aim of the terrifyingly effective horror subgenre that makes use of all the resources at its disposal is to terrify its audience. There are many different connotations that may be evoked by the usage of horror as a visual shorthand. Enjoy the thrilling game of Color Horror. Find the color blocks that correspond to your snake. Your goal is to stay alive by destroying as many different colored blocks as you can.
How to play
Tap to change direction of your snake and match the snake color to the blocks.