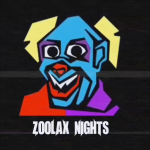 The terrifying video game Zoolax Nights: Evil Clowns is a lot of fun, and it tasks players with keeping an eye out for antique dolls in the form of clowns over the course of six nights.
Instructions
Your goal for Zoolax Nights is to defeat the Evil Clowns. In order for you to survive for numerous nights, you need to keep a close check on the surveillance cameras. There will be a lot of riddles for you to figure out. His game is quite impressive to look at and has a lot of different graphic effects. The score will lend an additional layer of suspense and dread to the experience.
Rules
You are going to need to keep an eye on the surveillance cameras and continue working for as long as you possibly can. This might entail six nights that are terrifying, uncomfortable, and sometimes even painful. There will be cryptic riddles to solve over the night, in addition to a few more challenges that might slow down your progress.