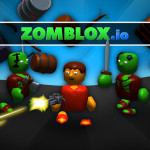 The incredible .IO game Zomblox.io is a game in which players must destroy stuff in order to acquire more powerful weapons.
Zomblox.io's Getting Started Guide
Zomblox is a multiplayer game that can be played online and contains zombies. The elimination of treasure is necessary to achieve victory since it grants access to more powerful weapons and tactics. Remember to get some clubbers and hammers as well as other types of weaponry. The waves are going to become bigger, and all you have to start with is a stick.
Insteresting Features
Assume the persona of a savvy seeker or a cunning target, and act accordingly.
Put your talents to the test by completing tasks within a certain amount of time.
Collecting valuable things and currencies will allow you to purchase more powerful Power-ups.
Learn how each character's special skills may be used, and gain some spectacular new skins.
The gameplay of dropping items from one location to another is natural and fluid.
Top popular .IO games
Survivor.io Revenge:

protect yourself and win by making use of shields, guns, ammunition, drones, and your own might.

Zombie Royale.io: F

ight your way through the Zombie Apocalypse and take down the Zombie Bosses in order to gain money and purchase new gear and improvements.
How to play
Move - WASD/Arrows
Attack - Mouse Click
Jump - Space
Pickup Weapon - E
Show Stats - TAB