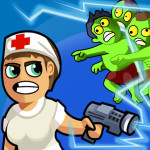 It's time to put your hand-eye coordination to the test with Zombie Royale.io, an action-packed and lightning-fast multiplayer online battle arena game.
Guidelines for the online game Zombie Royale.io
The most prevalent format is known as "Battle Royale," and it brings together all four of the game's primary game types. Zombie Royale.io is a multiplayer survival game set in a Battle Royale atmosphere. The game also features zombies. You have to fight your way through the Zombie Apocalypse and take down the Zombie Bosses in order to gain money and purchase new gear and improvements. Because of this mechanism, the gameplay is far more unexpected, dynamic, and entertaining. In addition to this, it shortens the breaks between rounds. Try your hand at Zombs royale!
Features
The gameplay is simple, yet it quickly becomes addicting.
The use of animation and visuals will almost certainly encourage you to play for longer.
Playing the game may be done in any one of 14 different languages.
There are presently nine different playable characters to choose from in this game.
Only until you have reached a particular level will you be able to unlock each Hero.
The adventures of each hero are distinctively their own.
Increase the capabilities of your heroic characters.