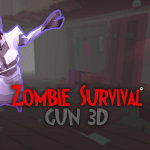 The 3D action game Zombie Survival Gun features polygonal graphics, a variety of weapons, and the exploration of graveyards.
Zombie Survival Gun 3D Instructions
In each level, you'll be transported to a new room or area. Then, they herd a bunch of zombies in your direction. You'll need to use the weapons you've collected to keep the zombies at bay as you progress through the game's many stages. As you advance through the levels, you'll unlock new firearms and other weaponry. These will fortify you against the growing and strengthening undead.
Check other Zombies games on Backrooms!