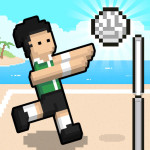 The lively and entertaining volleyball game known as Volley Random (after the most popular basketball game - Basket Random). Your objective is to keep the ragdoll under control while simultaneously scoring points and maximizing your scoring potential.
How to Play
The player gives the order for a massive ball, such a white or rainbow volleyball or basketball, to land on the ground on the other team's side of the net that runs through the middle of the court. Volleyball Random presents a few difficulties to overcome.
Because of the illusory walls that surround the court, the ball will always end up bouncing back behind the other team. You will get the opportunity to practice hitting a variety of balls, such as regular volleyballs, basketballs, and rugby balls.
How to play
Player 1: "W"
Player 2: "UP ARROW KEY"