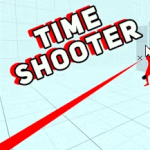 Time Shooter 2 is a fast-paced and intense first-person shooting game. Using a handgun and a powerful assault rifle, the primary purpose of the game is to decimate your foes as quickly as possible.
Instructions for Time Shooter 2
The popularity of Time Shooter 2 may be attributed, in part, to the fact that it was designed utilising the same fundamental idea as SuperHot. The only thing that can make time pass is your actions. In order to complete each level, you must first carefully arrange your shots before firing them. Keep in mind that you should use long-range weapons to eliminate your foes first, unless they pose an urgent danger to you. Choose the most effective weapon for each scenario; for example, if you face a large number of adversaries armed with firearms, an AK-47 could be the best option.
Features
Mission of Survival, along with 22 Campaign Missions
3D environment including authentic gunfire and realistic sound effects
Incentives for accomplishing daily goals
The five different planes in play
Plane improvements
Explore the full collection of arcade games offered by Backrooms Game to find more exciting titles like Time Shooter 3: SWAT or Mine Shooter Monsters Royale.
How to play
Move: "W,A,S,D"
Aim: "MOUSE"
Shoot: "LEFT-CLICK"
Throw weapon: "RIGHT-CLICK"