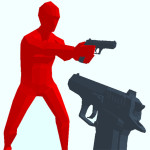 Time Shooter, the first version of Time Shooter, is a game where you must dodge bullets like Neo and rush enemies while avoiding damage.
Instructions on Time Shooter
Time Shooter is a first-person shooter in which the clock only moves forward when you move it. You can demonstrate your dexterity in dodging projectiles and aiming accurately with the new catching weapons. As you make progress through the game, you will gain access to additional levels and weapons. It means that there will be more thrilling things.
Features
Characters and settings with a high level of detail, both in and out of character
Fight mechanics that are true to life and feel natural to use in combat
Controls that are user-friendly and easy to understand how to operate
Investigate more difficult levels.
People who are looking for a challenge in a first-person shooter game with will find that this is the ideal game for them. If you wish to play more similar games, Backrooms Game offers lots more! You can also check out Time Shooter 3: SWAT and Time Shooter 2.
How to play
WASD = move
Left-click = shoot / pick up the weapon
Right-click = throw weapon
F = pick up