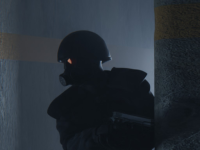 The Last Man is a great survival horror game in which you have to use your own weapons to try to get rid of all the lines in the dark.
Instructions
The Last Man is a survival horror game in which you have to get out of a building full of aliens. On your journey, you must find and collect all weapons and gear. You need to find a way out of these scary, dark places. These aliens can eliminate you in one hit, so don't let your guard down.
Features
Bullets, weapons, exits, and enemy positions are chosen at random. 3 Levels full monsters Labyrinthine 3D environments From a combat knife to a sniper rifle, there are ten different kinds of weapons.
This Halloween, don't forget to check out other scary escape games for more fun. Adam and Eve Night is one of the most popular games from the Adam's Adventure series. You must help this boy get away and get back home. In The Backrooms Game, your character gets lost and ends up in a strange place with many strange rooms and hallways.
How to play
WASD or arrow keys = move
Left-click = shoot
Right-click = pick up weapon or item
Mouse scroll = change weapon
R = reload
T = ON / OFF thermal goggle
N = ON / OFF night vision goggle
M = ON / OFF Map
Left-Shift / Space = run
P = pause