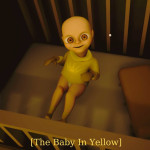 In order to become a competent babysitter, you must use all of your childcare and survival abilities in the fantastic horror game The Baby in Yellow.
Instructions
In the simple horror survival game The Baby in Yellow, the player may assume the position of a babysitter. Simple guidelines are in place: look after a baby who has round cheeks, lovely skin, and dimples in his or her grin.
Rules
All the duties a nanny does, such as feeding, washing, dressing, and putting the child to bed, will be required of you. You will be able to recognize the requirements of the kid and the duties you have. It's crucial that you adhere to the directions and do all the jobs. If you don't do what you're told, the youngster will get even more agitated and depressed.
Mode in the Yellow Baby
- Standard mode
In this Normal mode, there are two potential outcomes: Quick Ending and Normal Ending.
- Escape mode
This Escape mode has two possible outcomes: a good ending and a bad ending.