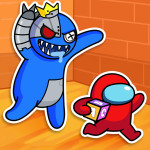 In Survivor In Rainbow Monster, you and your pals spend five days in a wasteland and try to stay alive.
Rainbow Monster: Instructions for Survivor
In Survivor In Rainbow Monster io, Red Monster will be your guide. One of the aliens who killed the crew is waiting on board. The only catch is that a lot of the systems are broken. These structures must be repaired and stabilised. Check out all the storage areas, and focus especially on the yellow labels. You can move around the spaceship and interact with its features by pressing the WASD keys.
Check other related games with Rainbow friends!
How to play
Use the mouse and WASD keys.