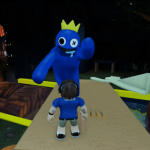 In the fantastic horror escape game Rainbow Friends Horror Escape, you must use cunning tactics to dodge all the many colored creatures, including Blue, Green, Purple, Orange, and Red.
Instructions
Recently, a lot of people have started playing Rainbow Friends Horror Escape. It is a game that Roblox created. In this horror-themed game, you have to get away from the Rainbow Friends. You must explore the map in search of toys if you want to live. You have to finish every level as well. Make every effort to avoid being caught by the Rainbow Friends.
Rules
To survive each level, you must locate the necessary toys. As you look for Rainbow Friends in your current location, which are Blue, Green, Purple, Orange, or Red, be careful not to be caught.
How to play
Move using WASD, leap with SPACE, sprint with SHIFT, and navigate with the mouse.
Press the RIGHT MOUSE BUTTON, W, A, S, and D to lock the mouse.