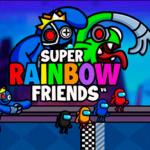 The game Super Rainbow Friends gives you the opportunity to compete against your friends and other players to win star points.
Instructions for the Super Rainbow Friends Game
Like Rainbow Friends: I'm a Monster, Rainbow Friends star in the high-octane, adrenaline-pumping action adventure known as Super Rainbow Friends. You must avoid enemies. You will play the role of an astronaut who must tap the screen with either the mouse or their finger in order to jump. Your objective is to stay out of harm's way at all costs!
To perform a double or triple jump and sidestep any obstructions, click or tap the screen. You must also finish the race ahead of the other members of your crew.
Do not forget to check Survivor In Rainbow Monster 2 to enjoy awesome Rainbow games!