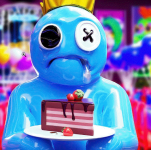 Rainbow Friends: I'm a Monster is a hilarious party game that may be enjoyed with good company. The most important goal for you is to become one of the Rainbow Friends.
Instructions for Rainbow Friends: I'm a Monster
You are going to take on the role of the Blue Rainbow buddy in this game. The noobs with the blocky appearance have taken your toys. In order to reclaim your toys, you will need to capture them. In order to pass each level, you will need to accomplish the objectives set forth by the blocky Noobs and toys. His cubes were taken by the horde.
The toys have to be put back where they belong, and the people who stole them should be punished. Everyone should be on high alert because the most terrifying monster in the planet is on the hunt.
You can check more interesting rainbow games on Backrooms Game like Rainbow Noob Survivor and Five Nights at Rainbow Friends'!
How to play
Use the WASD keys, spacebar, R, and E keys.