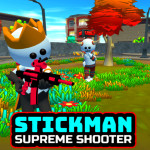 Stickman Supreme Shooter is an enjoyable shooting game in which you must show no compassion to the other stick figures you face off against.
Stickman Supreme Shooter's Instructions
Get ready to start your journey as a stickman and bring your entire might to bear on the adversary. Your only objective is to eliminate the threat posed by the foes with shotguns and heavy machine guns. Gather ammo for your guns and other in-game perks as you go through the game. Don't forget to utilise various firearms to eliminate foes. You will not be victorious until you eliminate the boss zombie and all 72 of his followers inside their respective levels. Now is the time to let loose and have some fun.
Main Features
Explore the most attractive aspects of this city.
Gameplay based on realistic ragdoll physics
There are three distinct game types available for play.
Adjustable difficulty for fights that will test your mettle
Bringing the RPG Mode campaign to a successful conclusion.
Stickman Supreme Shooter is an example of a game in this genre. This action game also has a realistic ragdoll mechanic in the gameplay. The stickman game Time Shooter is a lot of fun to play. The Backrooms Game client provides access to these games.