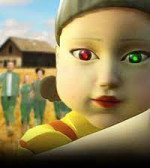 Squid Breakout In Revenge, you'll have to battle and remove all enemies while also solving riddles, making it an engaging survival escape game.
Instructions
If you're looking for a fun and accessible third-person survival escape game, go no farther than Squid Escape: Revenge, which has a Squid Game-inspired setting. Feel like you're really in the show with this free online game. Let the good times roll!
Rules
Stay alive during the brutal battle first. Then, see if you can hang on for a minute. Defend yourself by assaulting your attackers. The process will proceed to the next level after you have finished the current one. Each guard must be taken out individually while avoiding the others. Take the weapons by surrounding the guards.
How to play
Move with WASD,

Use the mouse to aim and shoot, the wheel to change weapons,

G for grenades,

R to reload,

F to pick up items,

L-Shift to run,

L-CTRL to crouch,

Space to jump,

X to prone,

V for melee.