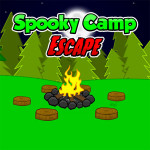 The spooky-themed escape game Spooky Camp Escape is an exciting and entertaining adventure. In this game, your goal is to devise a brilliant plan to get out of the creepy setting.
Instructions
This is a Halloween-themed escape game called Spooky Camp Escape. The atmosphere is so unsettling that you get the feeling that you have no choice but to leave the location immediately.
Explore your surroundings and see what you can find that can assist you in evading capture in this creepy camp. Find your way out of the situation by using your natural curiosity to locate and make use of various items.
How to play