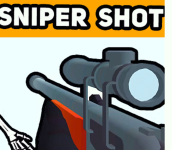 In the fast-paced video game Bullet Time: Sniper Shoot, your objective is to eliminate as many foes as possible while progressing through increasing difficulty levels.
Instructions for Sniper Shot: Bullet Time
You are now holding a sniper rifle in both hands. The video game Sniper shot: Bullet Time was developed by GoGoMan. You have the ability to leap very high in order to strike your target when you are in the air. It is necessary to jump high in order to rapidly reach your opponent and remove them. You have the potential to excel at sniping and become the finest in the world. You have the potential to become the best marksman in the world. When firing at an opponent, you should experiment with a variety of shooting positions and aim to target a variety of regions on their body.
Features
There are around 200 tasks that need to be finished.
Acquire and showcase your mastery of these 31 talents with the help of achievements.
Upgrade your equipment to boost in-game skills
The most recent development in the realm of music for an immersive gaming experience is dubstep.
Interactive gaming with environment elements that may be destroyed completely.
PC gamers will enjoy the high-speed action ofSniper Shot: Bullet Time. You may let your inner gunner out to play. Are you seeking for experiences that are even more exciting than those you've already had? There is a large variety of exciting action games available for play on Backrooms Game that will have you on the edge of your seat. Try out Noob vs 1000 Freddys and Nextbot Rainbow Friends if you have a chance.
How to play
WASD = movement

Right Mouse Button = aim

Left Mouse Button = shoot

Scroll = zoom in / out Space = jump