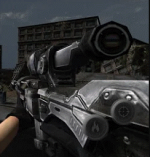 In the fantastic 3D shooting game Sniper D City Apocalypse, you must earn additional points and bonuses to upgrade your weapon.
Instructions
You may experience what it's really like to be a sniper fighting zombies in Sniper City Apocalypse. In the face of the zombie apocalypse, it is challenging to shoot zombies and humans who are crawling through the streets.
The setting of the game is a zombie-infested, abandoned metropolis. In order to attack them, you must live. Every day, the zombies become more intelligent and transmit their infection to everybody who comes into touch with them.
You have to be a good sniper to shoot zombies from such a distance. If you miss once, however, your intended victim may be a buddy of someone else. At night, the zombie population grows quickly and feeds on people. They can detect our existence from a great distance and will approach us before we can get away from them.