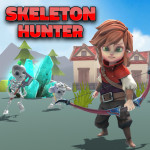 Skeleton Hunter is a high-octane action game in which the objective is to eliminate all of the skeletons in the level.
Instructions for the Skeleton Hunter
Skeleton Hunter is an incredible three-dimensional video game that includes threatening skeletons. You may use your bow and arrows to take down all of the skeletons that are charging at you by taking precise aim with your weaponry. If you want to avoid dying too rapidly, you should attempt to remain as far away from the skeletons as you can while also trying to kill as many of them as you can. In each of the stages, you will be tasked with killing skeletons that stand in your way. Use your arrows to take out each one of them until they are all dead.
Main Features
Free online survival first-person shooting game.
Utilise various weaponry
The combination of sounds and sights that are fascinating and evocative
Play a first-person shooter that is driven by a narrative and has both mini-goals and campaign tasks.
Discover your enemy's distinctive features
The rules of the game are simple, yet it might be challenging to become an expert player.
You may hone your abilities by playing the Endless Run mode.
There are a large number of unique game modes, such as Mutators, enhanced weaponry, and many more.
In Skeleton Hunter, you will be up against hordes and swarms of zombies, so be sure to brace yourself. The narrative-driven, stressful survival shooter is now available for play on personal computers. You are going to be on the very edge of your seat throughout it.