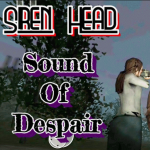 The incredible horror game Siren Head: Sound Of Despair has as its primary focus the task of attempting to shield oneself from harm in every manner that is feasible.
The Instructions for Siren Head: Sound Of Despair
The video game Siren Head: Sound of Despair is played from the first-person perspective and takes place in a forest. A number of months after the bombing in Belgrade, you and your husband camped in the area around the city. Your spouse just vanishes out of the blue. You have a chance of winning if you take an axe, go into the foreboding and gloomy forest, and get yourself ready to face a monster.
Head of the Siren. Remember to flee without glancing behind you, take some objects that may be used as protection, and get to a safe place as soon as possible in the morning. It is time for you to demonstrate your courage by slaying that scary creature in a ruthless manner.
The Primary Characteristics
You will get to know a terrifying clown, as well as learn about various weapons and monsters.
There are a lot of issues that need resolution.
Put yourself through a number of different tests and tasks.
Incredible artwork as well as Sound Design
Take part in a contest that is quite difficult.
Both Funny Battle Simulator and Zombies Survival are widely considered to be two of the most terrifying arcade games ever developed. On the Backrooms, we have the ability to play these games at no cost.
How to play
WASD = move,

Mouse = aim / shoot,

F = grab / interact with item,

Shift = run,

Space = jump,

I = watch all controls