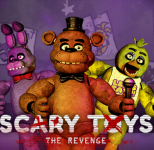 Scary Toys - The Revenge is a fun horror game inspired by Five Nights at Freddy's in which you seek vengeance on FNAF characters!
Instructions
Scary Toys: The Revenge is an interactive horror game inspired on Friday Night at Freddy's! This game enables you to battle and beat three FNAF world characters. The game starts with Bonnie and Chica, followed by Freddie Fazbear, a frightening teddy bear.
Rules
Once you've decided which character to eliminate, you may visit the shop to buy various weapons. To begin, you will need 50 ex officio points. In return, you can only get a machine with yellow pencils.
In the bottom left, you can see how many lives the character has as well as how many points they have. This allows you to utilize your points in the store.