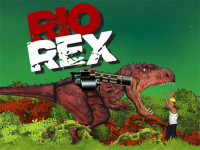 Any person who like dinosaur should play Rio Rex since it is a game that is jam-packed with exciting action, has a fantastic plot, and has a fun gameplay.
Instructions for the Rio Rex
If you want to rack up as many points as you can while wreaking as much havoc as you can, you have a chance of coming out on top of the competition. Rio Rex is a free-for-all arcade game in which you take control of a colossal T-Rex and let it rip through the jungle! Don't forget to rampage through cities and towns, wreaking devastation on the defenseless human beings you encounter, and destroying anything you find along the way. Continue wreaking havoc and causing damage, because, hey, why not? The physical traits of its body, head, legs, and teeth may all be altered to some degree. After gaining a certain number of stars, you will be able to improve the look of your character by equipping them with new weapons and other improvements.
Features
The absolute pinnacle of all adventure games!
Modify your Tyrannosaurus Rex in every way from head to tail.
You need to consume all that you can see.
There are sixteen intriguing levels for you to investigate.
Improve your dinosaurs as well as your weaponry.
Are you ready to unleash the Rio Rex and let it wreak havoc and horrible destruction? You are prepared to consume defenseless individuals and even submersibles in your hunger. If you are impressed by the gameplay of this game, you may also like Dinogen Online and Dear Grim Reaper. Both of these games offer more to discover and enjoy.