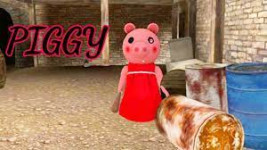 Piggy Escape from Pig will bring to you the best thrilling and wonderful feeling as you need to escape from an evil pig thanks to solving puzzles!
Instructions for Piggy Escape from Pig
A bad pig with a baseball bat and a hunger for human blood has locked you in his house and won't let you out alive. Don't worry, though, and explore this dark and scary place with many rooms.
To stay alive, you'll have to solve all kinds of puzzles and figure out different secrets to find the key to the front door. Will you be able to get away without getting attacked by the most ruthless attacker pig in the world? Your enemy will not stop trying to attack you until he does. Get out of this scary house before it's too late and enjoy the rush of adrenaline.
Key features
Amazingly real-looking 3D graphics.
Jump into a scary adventure with a lot of traps and dark places.
Explore every part of this dark place carefully.
He is trying to stay alive while a murderous pig is trying to attack him.