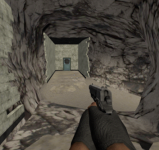 You must navigate the hospital hallways in the fantastic action-escape game Night Watchmen Stories Zombie Hospital, which has a horror theme.
Instructions
Stories from Night Watchmen's Zombie Hospital: This first-person adventure game takes place in a building that has been overrun by zombies. To exit as swiftly as possible, you must walk the building's corridors and look for any valuable objects.
Rules
During a long night as a hospital night watchman, you nod off. You hear a ruckus out of the blue and can locate where it came from. Your weapon's code was stashed away in a vault. You can't get it back, unfortunately. Take your bottle and head to the hospital's shadowy hallways. Before you leave the hospital, you must determine what caused the accident.