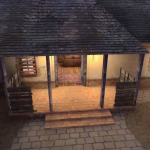 Mr Meat House Of Flesh is an adventure game with a horror theme in which you need to rescue all your neighbors and escape from the outbreak of zombies.
Instructions for Mr Meat House Of Flesh
This is the time of the plague of zombies and the slaughterer, who is your next-door neighbor, doesn't live but still wants blood. He has no heart and just wants to attack. Flesh and blood that are new. He has turned into a attacker, and his house is a mix of a creepy mansion and a prison. This scary zombie is called Mr. Meat, and he is a real attacker. The next person to die for him is a young woman. She is locked up in this jail. Oblivion is after her, and if no one stops it, your creepy zombie neighbor will attack her. Your main goal is to save her life by rescuing her.
Key Features
Find the answers to puzzles to save the young woman's life.
During your trip, you can enjoy amazing ambient sounds and easy-to-use controls. For a full experience, headphones are recommended.
How to play
W,A,S,D to Move
F to Interact/Hide/Use Item
G to Drop Item
T to Unhide
Left CTRL to Crouch
Escape to Pause