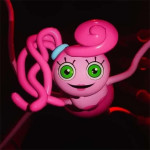 Welcome to Mommy Long Legs Escape! Try to escape Mommy Long Legs in this crazy online game. The goal of the game is to explore every room and complete all the intriguing quests to reach the final destination. You'll be jumping, sliding, diving, and dashing through obstacles based on Poppy Playtime Chapter 2.
How to play
There is an evil mommy with long legs wandering somewhere nearby, leading a group of toy monsters led by Huggy Waggi, in the Mommy Long Legs Escape maze. Move around with the WASD keys and look around with the mouse. Find all the pictures inside the ghostly toy factory in order to complete each level. Keep your distance from the demon doll, because she is sneaking around, and if she gets close, she will scare you. Watch out for this lady because she seems to be able to run faster than you. Don't let her catch you. Just keep running.
You must collect all of the pictures around the locations in order to complete each level. There are also additional devices you can use in the game to solve puzzles. Having fun is fun, no matter how scary it may be. Good luck!
Game Feature:
Everything is filled with an intense atmosphere
The second chapter introduces a new enemy
Gameplay that is thrilling and suspenseful
Controls that are intuitive
The graphics and sound effects are amazing