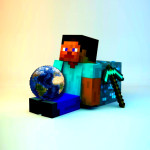 MineBlock Earth Survival is a fantastic agility game in which your aim is to pick mushrooms while avoiding meteors!
MineBlock Earth Survival Guide
Do you enjoy Mineblock? Are you a fan of MineBlock Earth Survival? To play the game, you must avoid all meteors. There are several ways to enjoy and play this game. From exploring to constructing to defeating your opponents. You will need resources to create, which you may obtain from anywhere in the globe. Build from scratch or utilize pre-made objects.
Features
There are numerous game modes to choose from.

Chat and communicate with players from all around the world.

Mini-games that are both enjoyable and competitive.
MineBlock Earth Survival has a wide range of game types that you will like. If you're looking for more similar games, you can also try Five Nights in Minecraft, CraftMine and Minecraft on this site
How to play
WASD = Move,

Mouse (Click and hold) = Mining a block,

CTRL = Inventory