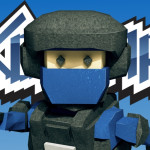 The multiplayer 3D shooter arena game KOGAMA Two Fort sets you against your buddies in an intense contest of strategy and wits.
Instructions for KOGAMA Two Fort
You are required to locate a weapon and then engage in combat with the other players. You are pitted against the other players in this third-person shooter arena game that is played in three dimensions. Hiding yourself under cover ensures your survival in this game.
In this online shooter game, it is important that you practise your shooting skills regularly. During the game, there is competition between two teams. Be sure to secure your stronghold and shut all the doors!
Check other interesting Kogama Games on our site to have fun:
How to play
W — Move forward.
S — Move backward.
A — Move left.
D — Move right.
Space — Jump.
K — Respawn.
Left Mouse Button — Shoot.
V — Drop the weapon.
E — Use item.
Q — Holster weapon.
Esc or M — Menu/Quit.