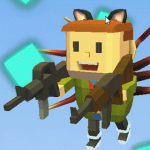 An incredible game about Siren Head is provided by Kogama and is titled Kogama: Siren Head. Your objective is to take part in an exciting journey through a dangerous woodland that is inhabited by monstrous beings who can pass themselves off as people.
Instructions for Kogama: Siren Head
This woodland is an excellent location for discovering stars, gaining knowledge about the legend of the Siren Head, and surviving. To stay alive, you must stay away from this creature and go away from the Siren Head. You will be provided with a firearm so that you will be able to protect yourself if necessary.
There is a reduction in the number of rounds required, but you still need to make sure you have enough. Normal mode will need you to take additional precautions, while tough mode will make it far more difficult for you to avoid being attacked by monsters by increasing their intelligence and strength.
Related games