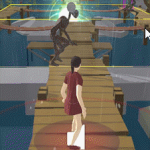 In the adventure game Siren Head Bridge Escape, which is part of the Siren Head series, you take on the character of a lovely young lady and work to free yourself from a variety of perils.
Instructions
The poor girl is stranded on an island inhabited by creatures with siren heads. In order to save her life and get out of this web, she will have to sneak away from the monsters when they are looking the other way. The most significant danger that this new region faces comes from Siren Head. These scary creatures exist in a number of different iterations. It is imperative that you steer clear of colliding with any of them. In the event that this occurs, you will be need to begin over. Do not forget to check Siren Head SCP-6789: The Hunt Continues for more fun!
How to play
You may control the female by using the WASD keys on your keyboard. To sneak up on enemies and other objects, press and hold the shift key down while moving your mouse.