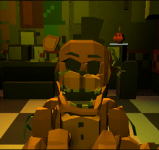 Kogama: Five Nights at Freddy's is a different take on one of the most successful horror games of all time, Five Nights at Freddy's, in which the primary objective is to flee from a sinister abandoned location.
Instructions
Five Nights at Freddy's takes place in Kogama. You will be able to encounter unrecognised places and survive in a harsh environment as long as you can. When you take on Freddy, Bonnie, and Chica in battle, you'll bring out the best in yourself and make them all come to life in the dark.
Rules
During this time, you will get the chance to investigate and tour a haunted building. You will communicate with other players from all around the globe, and it is imperative that you do not let yourself be frightened by any ghosts or other things that you may come across. You won't regret it. Try your hand at it.