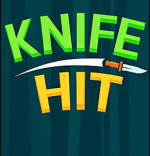 Knife Hit Horror is an interesting game which you have to fil all the knives in the monsters heads to escape as soon as you can!
Instructions
Knife Hit Horror is a humorous and slightly twisted knife-throwing reaction game that can be played online at Silvergames.com. To stab all the knives into the spinning head of an evil clown, you must throw them all. To unlock new knives, gather coins and attempt to progress as far as possible without losing your mind.
Although this game is not recommended for individuals with cardiac problems or sensitive hearts, it's a good idea to experience a little bit of a shock every now and then.
Knife Hit Horror is a thrilling game that challenges one's reflexes and ability. You are required to arrange all your knives on a spinning board.
As you advance through the stages, you will need to timing your throws precisely. At the conclusion of each level, a boss will confront you.