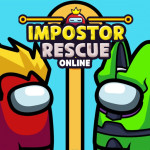 Impostor Rescue Online is a brand new adventure clicker game in which you must find solutions to all of the game's problems in order to level up as many characters as possible!
Instructions
Impostor Rescue Online is ready to put your intelligence to the test as it waits for you to figure out a way to rescue the characters who are stuck in the spacecraft. You have to protect each and every one of you from the myriad of hazards that are spread across the stages. The newly designed user interface is going to be the main draw.
The spacecraft in space are adorable, and the people in the game are entertaining. There might be anything from one to three different personalities on each level. Make it a priority to get three. You may get new skins by using your superstars to unlock them.
There will be various challenges for you to overcome, such as dangerous creatures, moving lava, and dangerous artifacts. It is necessary to remove the yellow bars in order to prevent them. You are obligated to help the imposter gain the treasure of the beautiful jewels in order to proceed.
How to play
Use the mouse to move the pins or touch the screen on mobile devices.