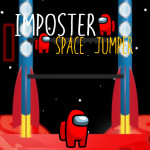 The arcade game Imposter Space Jumper, in which players are required to hop between various obstacles, is both entertaining and soothing.
Instructions for Imposter Space Jumper
If the Impostor jumps too high, there is a chance that he may make contact with the top spiky ceiling, causing him to explode. Just by standing on the platform, you may gain points. Be careful not to let your feet hit the spikes on the ceiling. At the top right hand corner of the display is where you'll find a unique scale. The height of your leap may then be accurately estimated using this information.
How to play
Use the mouse to play this game.