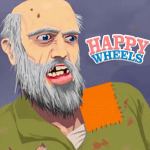 Happy Wheels is an excellent parkour game in which you must control the character by avoiding all traps and obstacles while striving to level up!
The Happy Wheels instructions
Happy Wheels is renowned for being a graphically violent video game. Using public maps, players can generate a multitude of levels. You can also play with characters made by other Happy Wheels players from across the globe.
This game will challenge you to navigate your character past treacherous assassins, enormous fists, and vast voids. Essential is your capacity to recognize and avoid threats.
This undertaking will not be simple. There are several traps, mines, and wormholes that can rip you apart or even remove a portion of your body.
Important Characteristics
Happy Wheels is a physics-based ragdoll online game developed by Fancy Force. Unlockable characters and automobiles are available in Happy Wheels. Each level is a brand-new adventure. As you sprint to the finish line, you must avoid lethal traps and perils as well as your own bike turning against you. Using the level editor and your own custom player levels, you can play Happy Wheels online.
Rules to success
You should not rush your initial effort.
You can replay levels in order to improve your standing on the leaderboards.
Use the tilt controls appropriately to complete each level without incident.
How to play
Left and right arrow keys to Lean left and right
Up and down arrow keys to Accelerate / decelerate
Z to Eject
C to Control camera
Space / Shift / Ctrl to Special abilities