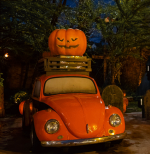 Halloween Scary Jungle Road Drive is one of the best interesting games in which you have to drive across various scary forests of woods at dark night.
Instructions
In this scary game, keep your mind busy at all times and don't leave the current area, or a group of dangerous ghosts will find you and attack you. There are a few scary people at each finish line who will attack you instantly if you hit them. Don't forget to turn off the headlight when a warning light of some kind appears on the screen. Try not to move until the warning message shows up on the screen.
Rules for Success Halloween Scary Jungle Road Drive
A lot of ghosts appear on the way to the end of the game so when a warning comes up on the screen, you need to turn off the headlights and stop the car until the warning goes away. If you don't stop or turn off your headlights, you'll fail the level.