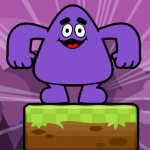 Grimace Drop is an excellent adventure game in which the player is tasked with completing all sixty levels. To accomplish this, either click or tap on the various boxes and blocks.
Instructions for the Grimace Drop
Grimace Drop is an engaging physics-based video game that features a whopping 60 different levels to play through. At the beginning of the game, you will be briefed about the role that has been selected for you. Perform all of the tasks that are displayed on the screen. You are free to employ whatever method at your disposal in order to methodically position the blocks in such a way as to direct the Grimace Drop into the grass. It is imperative that you solve all of the problems in order to go on to the next level. This game features a number of different gameplay modes, each of which adds exciting new facets to the overall experience of playing the game.
Features
The players are linked to a variety of distinct servers.
You can play with members of your own family, with complete strangers, or even with your friends.
Make your experience as unique as possible.
Playing this game on the computer will put your talents to the test. Check out the Backrooms Game website for other games of strategy. There is no charge associated with playing titles such as Only Up! Forward and Huggy Wuggy Fight Skibidi Toilet onto your own computer.
How to play
Mouse click or tap to play