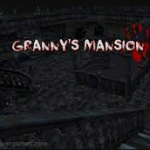 Granny's Mansion is an excellent horror-themed escape game in which players are needed to search for clues and complete the challenges in order to progress through the game.
Instructions
An online version of the terrifying first-person survival game Granny's Mansion is now accessible. You are going to have to look around for things like keys, weapons, and other items. Don't let your grandmother catch you! You must have your back turned to her at all times or else you will be struck in the back.
The location is really occupied by a monstrous creature that despises any and all forms of life. A skirmish with such a monstrous creature is not something that should be attempted. It will be tempting for you to leave the place.
How to play
WASD - Move
E - Action
F - Light
G - Camera
R - Restart
L - Lock cursor