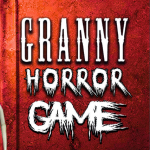 Granny Horror is an exciting horror game in which you have to put up some effort to discover a solution to get out of the strange hospital in which you are trapped.
Instructions
It's likely that you've found yourself in the middle of a terrifying home. If you want to stay alive, you have to make an effort to get out of his home, but you have to be quiet and watch your step.
Everyone else, including Granny, including, but not limited to, can hear everything. Even if Grandpa has trouble hearing, he will certainly find you if he sees you. Be cautious, for even the smallest of your actions can be a clue that the terrifying grandma is getting closer.
Features
Get away from the scary scenes in 3D while taking in the tense atmosphere.
Stealth gameplay has a large number of riddles for players to overcome.
How to play
Use keyboard and screen controls.