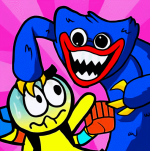 Grab Pack Playtime: Logic Game is an entertaining and addicting hypercasual game in which the objective is to locate all of the concealed things so that you may assist a buddy.
Instructions
The characters from Poppy Playtime appear in the puzzle-solving video game Grab Pack Playtime, which is an interactive experience. In order to gather the videotapes, you are need to utilize the GrabPack. Experience the terrifying tales of an ancient factory that manufactured grotesque dolls such as Mother Long Legs, Huggy Wuggy, and Kissy Missy.
Playing this easy puzzle game will assist you in seizing various items. Your objective at the toy factory is to use your super-extended arms to acquire various products from around the factory. You will, however, fail the test if you make contact with the creatures.
Features
The game contains over twenty different stages in total.
Unravel the mysteries of a facility that has been abandoned.
Take a grab bag with you in order to secretly get an object.
Avoid risky locations.