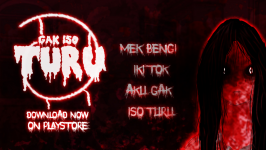 Gak iso turu is an action game featuring a horror theme and your mission is to keep an eye on Windows, Cabinets, and Doors!
Instructions for Gak iso turu
Every minute, even every second, there are new problems. Watch out for her in my room and don't let her come up to me. Watch my Windows, Cabinets, and Doors! Remember that you need to keep alive until 5a.m to win!
Key Features
Amazingly real-looking 3D graphics.
Jump into a scary adventure with a lot of traps and dark places.
Explore every part of this dark place carefully.
He is trying to stay alive while a murderous pig is trying to attack him.