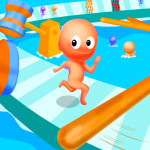 Playing Fun Escape 3D, a light-hearted game suitable for players of all ages, is a wonderful method to keep your mind alert and engaged. Your primary purpose is to triumph over difficult challenges and successful opponents.
Instructions for Fun Escape 3D
This is the racing game Fun Escape 3D, and it's a lot of fun. It is essential to keep running despite the many challenges you will face! There are now a total of four people working towards the same goal as you. To prevent your opponent from bringing about your own demise, you should push them. The amount of progress that has been accomplished will be displayed at the very top of your screen. Running and pushing your opponents requires you to click the mouse. To be the winner of the race, you have to cross the finish line first.
Main Features
You'll be able to pick up just where you left off thanks to the auto-save function, which will do that for you.
Superior visuals in three dimensions that have a genuine appearance.
As you progress through the game, the difficulty level will continue to rise.
Those puzzles with a purpose are the ones that really put your thinking to the test.
Top Action Games