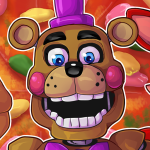 Freddy Fazbear's Pizzeria Simulator is a new FNAF game in which you must run a bustling pizza parlor while taking orders!
Instructions
In Freddy Fazbear's latest episode, you'll be in charge of a pizza parlor. You are prepared to take charge of your career. To run Freddy Fazbear's Pizzeria, you may become a Fazbear Entertainment franchisee. You'll need to collect orders, monitor stock levels throughout the day, and be ready for night terrors! This is when you must keep an eye out for security risks and verify that everything operates properly.
Rules
This retro-styled management game will teach you how a family-run business came to have such a fantastic reputation. Begin by creating a space that is both enjoyable and productive for your family. Each night, you must complete a set of activities.
You may add sausage, pepperoni, and cheese to your pizza. You may serve pizza to customers, but keep an eye out for the bear that is attempting to get in your way. Always remember to purchase fresh pizzas so that you never run out of this delectable Italian specialty.
How to play
Mouse, AD = view, Spacebar