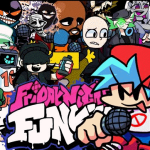 The most recent installment in the Friday Night Funkin series, FNF: Broken Reality V3 tasks players with assisting protagonist Boyfriend in overcoming a variety of horrific foes he encountered after being imprisoned in Backrooms.
Instructions for FNF's Broken Reality V3
Broken Reality is a Friday Night Funkin Mod that is inspired by the scene from TBackrooms in which Boyfriend was held captive in the Backroom. Rapping was the last weapon he had left to defend himself against an unknown foe and preserve his sanity. You have to follow the chart in order to get to the finish of the song. It indicates that you have to push the arrow keys whenever the arrows that are located above BF are the same.
Songs
6miles
boredomroom
contact
echoes
leve-zero
Lostcause
party-starter
rivalry
ronsrooms
sanity
treaty-violated
unhinged
FNF: Broken Reality
AwesomeplaceYT Musician, Artist, Coder, Charter
Simplybee : Charter
John : Artist
Soob dose something : Artist
Wise Animations : Artist
YoshiBoi : Artist